A quick look at some of the nation's most innovative campus foodservice programs shows that any chasm of relevancy, quality or buzz-worthiness that traditionally separated college and university dining from commercial operations has now been filled in.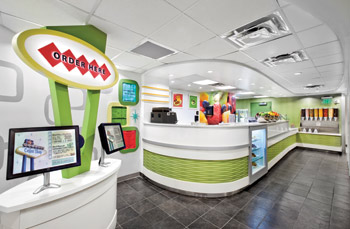 Across the country, schools large and small have effectively shifted the paradigm from institutional and uninspired to fresh and fabulous, and it's a shift that's all about meeting the needs of a whole different class of students.
"Students today are so much savvier. They've grown up in an on-demand society with incredible access to information, and that expectation spills over into every aspect of their lives," says Karen DeVet senior resident district manager for Aramark at the University of Minnesota. "They're used to having just about any flavor or type of food they might want, available when and how they want it, and they're looking for that same experience on campus."
David Porter, FCSI, CEO of planning and design firm Porter Khouw, agrees that student expectations and lifestyles — and administrations' commitment to do a better job of catering to them — remain major forces driving change. "The trend today is toward developing programs and designing venues to support those programs with extended hours; comfortable spaces for hanging out, socializing and studying as well as eating; and a lot of variety of menu offerings. We call it social architecture, and it's all about figuring out ways to dial into the lifestyle and needs of the students," he says. "It can provide great returns because suddenly students actually want to be on and stay on the meal plan."
While this may be a time of exciting change in campus dining, it's also an extremely challenging one. Higher education is under daunting financial pressure. Student loan debt has reached crisis levels, and increasingly available low-cost online degree programs are causing many students to question the value of a traditional campus experience. Schools are taking a hard look at the quality of campus life and making very strategic enhancements, with foodservice being one area of focus.
"While it's always been there on the commercial side, now in higher ed you have financial pressure that's becoming much more acute and real," says Rob White, FCSI, president of Envision Strategies, an operations consulting and strategic planning firm. "You also have increasingly sophisticated student expectations, and meeting those expectations can add costs to your program as you improve the quality, bring in higher-skilled employees, remodel facilities and invest in new equipment. Many institutions are also adopting so-called living wage and benefit plans, which are contributing to higher labor costs. So there are a lot of things that are making the job of being a foodservice director more challenging. "But," White adds, "they're also the forces that are driving game-changing innovations."
---
Check out our profiles on the following College and University Foodservice Innovators: