As investment bankers in New York City, Helen Yung and Jan Wichayanuparp were afforded many opportunities to travel and eat great food at high-end restaurants. While it seemed like they had it all, the 9/11 tragedy was a wake-up call for both to follow their real passion.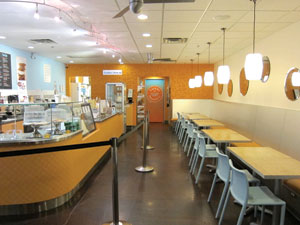 "We both loved food and connected over it, so we began talking about going into business together," Yung says.
Yung headed to Le Cordon Bleu's location in Sydney,
Australia, for three months of culinary school training and to learn the fundamentals of cooking and baking. She also racked up kitchen experience in the San Francisco restaurant scene with a stint at the now defunct Eccolo.
During a visit with Wichayanuparp's sister in Phoenix, they decided the region would be ideal for an ice cream shop. "It's more of a growing city than New York," Yung says. "We liked how the people in the food community, including restaurant owners and farmers, come together here. It's very close-knit and fun."
The pair opened Sweet Republic on Memorial Day 2008 in Scottsdale and have since expanded distribution to area restaurants and local Whole Foods Markets.
The 1,200-square-foot shop offers 24 rotating ice cream and sorbet flavors daily from a growing repertoire of 100 varieties as well as packaged product.
Staff make all of the toppings and add-ins from scratch, including cookies, marshmallow, fudge and brownies. Some ingredients that aren't produced on site, such as sea salt and sprinkles, are offered for free. "Not many ice cream shops make everything from scratch like we do, because it is very laborious," Yung says.
Kitchen production is ongoing. Both Yung and Wichayanuparp work full-time alongside a kitchen team of five that churns ice cream, bakes, makes the toppings and washes dishes in addition to washing and cutting the fresh, locally grown fruits and herbs that go into the ice cream and sorbets.
Walk-in freezers and coolers comprise most of the approximately 480-square-foot back of house. Pasteurizers mix the ice cream base of milk, cream, sugar and egg yolk. The units bring the base's temperature up to 85 degrees C and then down to 4 degrees C before staff blend and churn the mixture in an Italian batch freezer. To minimize ice crystals, staff use a blast chiller to rapidly freeze the ice cream before storing it in a low-temperature walk-in freezer.
Although volume can vary, Sweet Republic churns ice cream five to seven days a week, depending on the season and on the size of orders from restaurants and Whole Foods. On average, the company makes about 40 gallons of ice cream each day.
"The biggest challenge with a business like ours is that it is very capital intensive," Yung says. "There are many up-front costs for machinery that requires pricey maintenance. For example, our freezer control panel broke down late on a Friday night. We were lucky to find a 24-hour repair company to get it fixed."
When purchasing equipment, quality and ease of use are most important. "As our shop's owner and operator, I use the equipment all the time, so I look for units that I enjoy using," Yung says. "For example, while most batch freezers are horizontal, ours is vertical. This design makes it easier to lift up the lid and add mix-ins."
"People today are looking for quality ice cream that has a story to tell," Yung says. "I like that the people in town know and appreciate what we do. It makes this business even more rewarding."
Case Study: Bi-Rite Creamery and Bakeshop, San Francisco