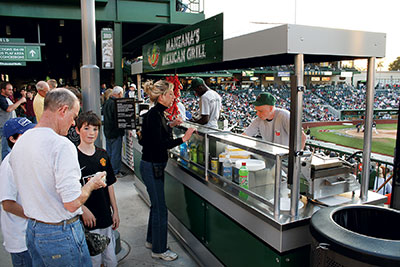 A departure from most minor league ballparks, Parkview Field offers a varied menu that includes authentic Mexican food."This was the third time we were ranked number one in the past four years, and it meant a great deal, since this was from the fans' perspective," says Bill Lehn, Parkview Field's director of food and beverage.
Parkview Field, which opened in 2009, can accommodate 6,500 people seated, 8,000 fans for standing-room-only events and nearly 14,000 for on-field concerts. The facility hosts more than 400,000 people each year for baseball games and 140,000 for non-baseball events, including concerts, weddings and local functions.
Operating all year, the ballpark's 11,000 square feet of indoor space includes the 4,000-square-foot suite-level lounge, the 5,000-plus Lincoln Financial Event Center and a conference center that seats up to 30.
FE&S spoke with Lehn and culinary director Scott Kammerer about Parkview Field's unique foodservice program and the equipment that supports it.
FE&S: Parkview Field's foodservice program is extensive. What does it include?
BL: We have 4 main concession stands that offer 25 to 30 items, including the requisite ballpark food like hot dogs, burgers, chicken tenders, onion rings and fries. With 70 home games jammed into a 5-month period, we have fans visiting us 5 or 6 days in a row who are seeking variety. As a result, we've incorporated versatile equipment into the stands, such as charbroil grills, flattop grills, fryers and roller grills. The park also includes 18 food and beer carts.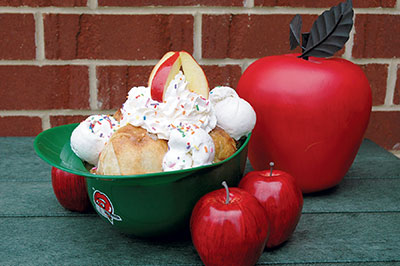 The Big Apple, which includes apple crisp and dumplings topped with whipped cream and caramel, is Parkview Field's award-winning dessert.FE&S: The cart program includes food not typically found in a stadium program. Can you describe some of the park's unique offerings?
SK: At the main gate, we have a grill cart that offers Philly cheesesteak, Italian beef and sausages with peppers and onions. In the corner of right field, the barbecue cart has pulled pork and smoked beef brisket, which we roast in our catering kitchen using slow-cook ovens. Last year, we roasted 14,000 pounds of pork shoulders. This menu includes gluten-free naked chicken tenders that are grilled and served with house-made barbecue sauce. From June through August we have a roasted corn on the cob cart. In the outfield is a barbecue grill with specialty items, including a bacon cheeseburger with regular and Canadian bacon; a mac-and-cheese burger; and a turkey burger that combines a beef patty and slow-roasted turkey slices. Along center field is another grill cart where pork chop sandwiches, hot dogs and burgers are offered. This includes an outdoor fryer for chicken tenders and fries. We also have a deli cart with fresh-made deli and wrap sandwiches and salads as well as two popcorn carts.
FE&S: With such a varied concessions menu, is there the same diversity with the equipment?
BL: All four concessions areas have the same equipment. Most everything is cooked with a flattop grill, charbroiler or fryer. Walk-in coolers and reach-in refrigerators and freezers are used for storage. Our home plate stand has a pizza oven. Since this area is attached to our main kitchen, we can offer salads, vegetables and our homemade red pepper hummus. Stand 3 has a pastry fryer for creating funnel cakes, elephant ears and from-scratch donuts. Stand 4 has a more comprehensive kitchen to service our field boxes. Two of our concession stands have seven points of sale with a 35-foot counter, while the other two have five points of sale with 25 feet of counter space.
FE&S: Stadium foodservice programs have evolved in recent years. What are the biggest challenges you've been facing?
BL: When we designed our food carts, we anticipated we'd take in $700 to $1,000 in sales at each game. We're now doing much more than that, which has put additional stress on the kitchen in terms of the prep work needed to support concessions. Also, we have limited storage space, with only about 10 feet per cart. Grill space also is limited to between 2 and 3 feet, and sometimes less. As a result, the main kitchen is bustling from 8 a.m. until games begin at 7 p.m.
FE&S: Have you had to make any adjustments to your operation to accommodate the unexpected volume?
BL: We monitored our radio traffic during games and figured out 80 percent of the calls were from suites for hot food. These items used to be transported from our main kitchen downstairs in hot boxes, but this took extra time. To solve this problem, we began designing a new kitchen space for the upstairs suite level at the beginning of our off-season. We're converting a 500-square-foot existing pantry into a kitchen by adding a ventilation hood, a couple of fryers and a charbroiler. We're still finalizing the equipment package.
Additionally, we have a 1,500-square-foot event center kitchen space that wasn't initially built out. As we've seen our foodservice needs continue to grow, we've begun equipping this area to help handle special events. It formerly included a walk-in cooler and freezer for cold prep, but will now need to accommodate cooking tasks. So far, we've started the preliminary work by installing a ventilation hood, a bank of fryers, a couple of convection ovens and a chargrill. This area is located in the right field corner of the ballpark by the Lincoln Financial Event Center.