Published on Sunday, 01 February 2015
Written by Lisa White, Contributing Editor
Driven by consumers' interest in culinary 
exploration and desire to eat more healthful foods, Mediterranean restaurants remain one of the most intriguing operator segments in the foodservice industry. Here we explore how several operators continue to keep this segment fresh.
Pita Jungle, Scottsdale, Ariz.
Pita Jungle puts a unique twist on Mediterranean favorites. Scottsdale, Ariz.-based Pita Jungle is a unique full-service concept that has redefined Mediterranean food. The principles and ingredients of this food type, including low-fat options, high-quality protein, grains, nuts, seeds, vegetables, fruit and olive oil, have been incorporated in a menu 
with Indian, French, Italian, Southwestern and Mexican influences.
Pita Jungle's history is as atypical as its menu. The concept was created in 1994 by Bassel Osmani, Fouad Khodr and Nelly Kohsok, a group of college students who cooked their way through school. "Back then, there weren't many options for those eating out; it was either college food or fast food," says Pita Jungle's co-owner Bassel Osmani. "We saw a need and designed our first menu."
At the time, Pita Jungle was one of few primarily 
vegetarian restaurants. The chain followed its own path to expansion, with the restaurant's managers and cooks becoming its first franchisees. Pita Jungle now has 17 locations in Arizona and 2 in California, with franchisees operating roughly half of its restaurants.
"We wanted to create a concept that becomes a lifestyle, like Starbucks — attracting the type of customer that will visit us regularly, whether once a week or once a month," Osmani says.
Pita Jungle's Mediterranean menu has Indian, French, Italian, Southwestern and Mexican influences.The menu adheres to the principles of the Mediterranean diet; about 50 percent of the dishes are vegetarian, and the portions are hearty. Items range from traditional appetizers like flatbread and hummus to Greek salad, pita and wrap sandwiches, seafood, lavosh pizza and tapas.
"Our offerings include any item that is in the realm of being healthy," Osmani says. "We like to take a trendy dish and put our own spin on it, like adding quinoa and kale to our tabouli." Popular dishes include mahimahi with pita chips and the lentil fetoosh salad with lentils, brown rice and caramelized onions served over mixed greens. Some Pita Jungle locations also run specials, like burgers.
"We're very creative and industrious in coming up with new menu items, and will add a dish if people ask for it," Osmani says.
The back of house, which comprises between 35 percent and 40 percent of the operation, utilizes two kitchens. Open to the dining room, the front half includes such stations as sauté, dip, wood-fired and grill. The centerpiece is a custom wood-fired oven, which may have a shell of adobe, brick or metal, depending on the restaurant's location. Mesquite is used to prepare pizza, seafood, pita and flatbread in the oven.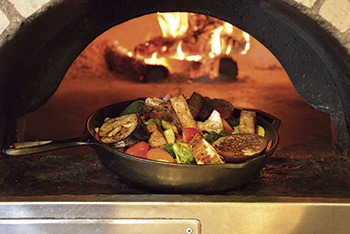 A wood-burning oven is the centerpiece of Pita Jungle's open kitchen.The front kitchen also has two flattop grills, one designated for meat and the other for vegetables. While staff do the majority of the cooking in the wood-fired oven, they occasionally turn to a salamander for broiling. Sautéing occurs on a six- or eight-burner range. Culinary staff assemble dishes at a center island in this area, which includes a makeup table with refrigerated drawers.
Much of the prep work takes place in the back kitchen. There, staff use slicers as well as vertical cutters that can prepare 75 to 100 pounds of garbanzo beans in one batch for 
hummus. The vertical cutters recently replaced a 
3-gallon food processor. "In this area, we have an oven that's high tech to control temperature and humidity," Osmani says. "This is utilized for preparing more sensitive dishes, like those with fillo dough." Other equipment here includes walk-in coolers and freezers, sinks and dry storage in addition to a dishwashing area.
Pita Jungle's equipment is purchased either to be functional or, in the case of the wood-fired oven and makeup table, for the aesthetics. "Energy efficiency and operating more green also has become a bigger concern," Osmani says. "There is a balance between labor costs and investing in equipment to find the right combination, but we're always testing new units for our restaurants."
Each Pita Jungle location features its own unique front of the house, with footprints ranging from 2,700 to 6,000 square feet, and averaging 3,500 to 3,800 square feet. Some sites are narrow and long, while others are boxy and square. Each site typically seats 120 customers, not including any patio seating.
"When we created the concept, we jumped on location opportunities that fit our philosophy," Osmani says. "In the early '90s, it was the grunge era with more [industrial-looking] designs. Even though we're a chain, we adopted a counter-culture approach."
Though all locations have high ceilings, concrete floors, open kitchens and wood-fired ovens, that's where the similarities end. Osmani and his partners design each unit to look unique and embrace the neighborhood, while reflecting anticipated trends at the time of opening. "We try to predict design trends three to four years in advance and go all out," Osmani says. "When we hit it, customers think we're geniuses, and if we don't, we're eclectic, so it's a win-win."
What has been a critical component in this chain's success is its support of the arts. Pita Jungle provides local artists with the opportunity to display and sell their work in its restaurants, with all of the proceeds going to the artists. Art openings are regularly held to drum up publicity for both the artists and the business.
"We've found that, not only is this a great way to stay relevant and continually freshen up our sites, but these events have generated huge buzz and goodwill in the communities we're in," says Osmani. "We also dedicate an area in our restaurants for the community to distribute flyers, magazines, business cards and to solicit services."
To top off the ambiance, Pita Jungle streams music through a channel created by the company. The eclectic mix includes jazz, pop and international music. "It's individualized for us, and we're in control of every song on the list," Osmani says. "It supports our culture and what we do, helping to create a unique vibe in each location."
Pita Jungle is in expansion mode, looking to add more sites in California and enter the Colorado market. "Our long-term plan is to grow the brand outside of Arizona and branch out into other concepts," Osmani says. "It's exciting to see that the dishes we've offered for 20 years are now starting to pop up on more menus and in supermarkets."
Closing in on 20 years in business, Barteca Restaurant Group's Barcelona Wine Bar is an authentic Spanish tapas bar that was ahead of its time.
"We opened in 1996, when there weren't many classic Spanish tapas bars in existence," says Andy Pforzheimer, co-owner and CEO of the Norwalk, Conn.-based Barteca Restaurant Group.
The chain operates 10 locations, with restaurants in Connecticut, Massachusetts, Georgia and Washington, D.C. Barcelona Wine Bar also operates a full-service catering division, which handles a total of 50 off-site events annually. "With our customers, it's not about age or income, but a lifestyle," Pforzheimer says.
MEDITERRANEAN FOODSERVICE FACTS:
Sales at Mediterranean chains grew to $362 million in 2010, a 1.7 percent increase from the year prior, according to Technomic's most recent 
Mediterranean Market Intelligence Report. In 2010, there were 430 
Mediterranean chains, up from 423 the previous year.
Thirty percent of consumers surveyed between the ages of 38 and 48 reported ordering Mediterranean food at restaurants at least occasionally, according to the "Generational Consumer Trend Report," released by Technomic in 2014.
Forty percent of consumers surveyed would like to see Mediterranean food or flavors offered at fast-casual restaurants, while 27 percent would like to see these items at fast-food outlets, according to Technomic's 2014 report "Future of LSR: Fast-Food and Fast-Casual Restaurants."
Thirty-nine percent of consumers ages 18 to 34 and 36 percent of consumers over age 35 would consider ordering a Mediterranean sandwich at a restaurant, according to Technomic's 2014 "Sandwich Consumer Trend Report."
The National Restaurant Association's 2015 Culinary Forecast listed Mediterranean cuisine as a hot trend on this year's restaurant menus. Also ranked were associated foods, including meatless items, tapas and flatbreads.
For more on Mediterranean dining check out our interview with Andy Pforzheimer, co-owner and CEO, Barteca Restaurant Group, 
Norwalk, Conn., owner of Barcelona Wine Bar.
We also interviewed Samantha Severo, marketing manager at Aladdin's Eatery, Lakewood, Ohio