By pairing convenience with menus that evolve to meet customers' changing tastes and needs, foodservice at entertainment venues continues to play a supporting role in the success of these businesses.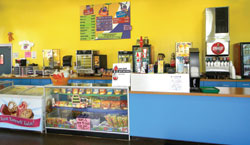 Many entertainment venues, like Monkey Joe's, run concession-like foodservice operations that use mostly countertop foodservice equipment.In the entertainment venues segment, including children's play centers, live theaters and movie theaters, foodservice remains a revenue driver.
Food and beverage sales increased at some children's play centers during 2011, including Big Game Brands' Monkey Joe's inflatable play venues, where sales grew 17 percent to $62.5 million, and Dave & Buster's, which showed 3.7 percent growth, reports Technomic, a Chicago-based foodservice market research firm.
"We're seeing a significant increase in the number of indoor children's play facilities going up," says Drew Tewksbury, vice president and program manager for Amusement Insurance Resources in Atlanta. "There's been a particular rise in inflatable playgrounds and indoor trampoline parks in the last 18 months."
These facilities typically combine with a family play center that includes game rooms, lounge areas and concessions operations. Food is more of an add-on, rather than the main attraction or profit center. "Although there is foodservice involved with these venues, it is not significant," Tewksbury says. "We're seeing traditional concessions menus that include quick-to-order items like pizza, popcorn, hot dogs, soda and frozen drinks. These kid-friendly food items are provided for convenience."
In terms of movie theater revenue, food and beverage ranges from 26 percent to 30 percent of sales, with many operations upgrading their menu offerings, according to Technomic. Although the movie theater eatery concept is not new, an increasing number of these operations have been sprouting up in recent years.
"These theaters offer first-run movies and menus that include hamburgers, sandwiches, salads and other restaurant-style food as well as beer, wine and mixed drinks," says Todd Halstead, deputy director of government affairs for the National Association of Theater Owners (NATO), one of the largest exhibition trade organizations in the world, which represents more than 30,000 of the 39,732 movie screens across the country, in addition to cinemas in 50 countries outside the United States. Its members include both large chains and independents, all for-profit theaters. NATO estimates there are 400 cinema eateries throughout the country.
Though cinema eateries meet with varying success, depending on the market, the most popular food choices for American moviegoers are still popcorn, candy and soda.
"A third of a movie theater's revenue comes from concessions, with the remaining profits from ticket sales," Halstead says. "The food and beverage profits increase for cinema eateries, but we don't have the exact revenue breakdown for these operations."
Key Equipment
Convection oven
Roller grill
Pizza warmer
Nacho cheese dispenser
Refrigerator
Freezer
Sink
Prep table
E&S Considerations
Footprint: Entertainment venues with smaller concessions operations have limited back-of-house space. In these cases, pieces of equipment with smaller footprints are more easily accommodated.
Durability: In high-volume operations that serve large numbers of customers at one time, like dinner theaters, units will get a workout. Heavy-duty construction is necessary for a longer service life.
Flexibility: Menu changes are not uncommon in these types of facilities, so equipment that can easily adapt to different dishes is generally preferable.
Entertainment Venues Take a Slice of Foodservice Pie
Case Study: Medieval Times Dinner and Tournament, Irving, Texas