Published on Tuesday, 31 March 2015
Written by Amelia Levin, Contributing Editor
After several chains embraced the LEED for Retail pilot program prior to its launch in 2009, the U.S. Green Building Council (USGBC) introduced a series of volume programs designed to make it easier for companies wanting to create LEED prototypes and duplicate those efforts on a larger scale.
In addition to individual building certification, LEED also includes certification paths for organizations seeking certification for multiple buildings, including LEED volume certification (mostly used by restaurant chains and retail companies) and LEED campus certification for colleges and universities, hospitals and even zoos and other commercial property management with multiple buildings on a single site that would all earn LEED certification as a combined project.
Volume certification is available for both new construction and existing buildings. The USGBC encourages companies to consider LEED volume certification if they build, own or operate buildings that are similar; have established green building practices for building design and construction or operations and maintenance processes; have a large number of projects to be submitted for LEED certification; and believe efficiency and corporate social responsibility are important.
Once documentation is submitted through LEED Online, a dedicated Green Building Certification Institute (GBCI) team reviews the application. From there, companies can submit projects for certification based on the prototype.
Chains earning LEED Volume certification for their stores include McDonald's, Starbucks, Chipotle, Chick-fil-A and Subway. Up-and-coming chain LYFE Kitchen has also earned this certification, along with convenience retailer Kum & Go and grocery operator Ahold USA. Hotels with this certification include InterContinental Hotels Group, Marriott International and Starwood Hotels & Resorts.
Take a look at some of these volume operators LEED-ing the industry.
Starbucks
The coffee chain opened its 500th LEED-certified location (spanning 18 countries) as part of the LEED Volume program, and has expressed a commitment to continue reducing global energy and water use by 25 percent system-wide. Starbucks' LEED-certified stores, the company claims, use 30 percent less energy and 60 percent less water than noncertified locations.
McDonald's
Since earning LEED Gold certification for a restaurant in Savannah, Ga., in 2005, the burger giant has gone on to certify other stores, including three locations in Cary, N.C., through franchisee Ric Richards. In addition to energy- and water-saving equipment and plumbing fixtures, one of the Cary locations features a charging station for electric cars, solar panels in the parking lot, 100 percent natural and LED lighting and low-oil-volume fryers. The extra oil is sent off to become biodiesel.
Chipotle Mexican Grill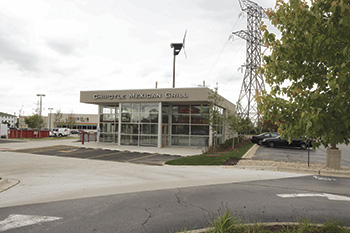 A leader in the move toward LEED, Chipotle was the first restaurant in the United States to earn platinum-level certification, the highest designation, for its Gurnee, Ill., location back in 2009. It also earned LEED certification for a store location in Minnetonka, Minn. According to Scott Shippey, director of design, some features include rainwater cisterns to cut down on water use for landscaping and other gray water uses; use of native landscaping and water-saving tools and equipment like low-flow urinals and efficient ice machines for a total water savings of 40 percent; erosion and sedimentation control plans; reduced islands and hardscape; and an overall energy reduction of 17.5 percent accomplished through an energy-efficient HVAC system, LED lamps and Energy Star-rated equipment.
The Gurnee location even installed a 6kW wind turbine on-site to supply clean, renewable energy to the store (7.5 percent). The restaurant also features a full-building energy management system (EMS) to monitor energy use. Food and worker safety considerations take precedence as well, so the restaurant has eliminated or reduced toxic materials associated with cleaning and packaging. Both locations are also located near public transportation, and bike racks were installed to reduce pollution.
LYFE Kitchen
The brainchild of a former investment banker and McDonald's veterans, along with consulting chefs Art Smith and Tal Ronnen, this Palo Alto-based chain concentrates on healthy and wholesome (plus local and seasonal) dishes served in sustainable environments with a sustainable mission. That includes its building design — several locations have earned LEED certification, thanks to numerous green features and initiatives like LED lighting, VOC-free paint and the use of bamboo and recycled steel, along with ceilings made from Forest Stewardship Council-certified Douglas fir wood and furniture made using materials salvaged from high schools and colleges. Exposed concrete walls add a modern industrial flare without the need for extra finishing. All upholstery is PVC-free and soy-based rather than petroleum-based.
Yum! Brands
While Yum! Brands has not sought LEED Volume certification according to the USGBC, it has earned LEED certification for 20 buildings, from Northampton, Mass., to Bangkok, Thailand. The Northampton KFC-Taco Bell was the first Gold-level store in the company and cut down on energy use by 30 percent through the use of energy-efficient equipment and lighting. It has also dramatically saved on water through the use of basic fixtures and harvested rainwater for irrigation. The store also uses solar energy to reduce the use of natural gas, and it sends off its frying oil to be made into biofuel. Since then, Yum! earned LEED Gold certification for a KFC restaurant in Beijing, China, which used 25 percent recycled material during construction and then recycled 98 percent of its waste after construction. Another LEED Gold location in Orléans, France, harvests rainwater and uses solar power to heat its water supply.
"The heart of sustainable building innovation and experimentation at Yum! has been the E3 Initiative — energy, environment and economics," says Jonathan Balas, AIA, LEED AP BD+C, Yum! Brands' senior manager, global responsibility. "The goal of the initiative is to develop holistic green building solutions that meet the bottom-line objectives of people, planet and profits. That means when we think about building a restaurant sustainably, we're not just thinking about individual components, like a fryer or building insulation, rather we're thinking about how all of the components interact, work together and how they impact the local site and beyond."
To learn more about LEED Volume certification, contact a member of the USGBC at http://www.usgbc.org/contact.
MAJOR LEED v4 CHANGES AT-A-GLANCE
LEED v4 clearly states that all energy usage has to go into an energy model, across the board, and in every single building type. If there is a kitchen in the building, those energy and water calculations must be taken into account and clearly defined using whole-building energy modeling or baseline numbers.
Water credits are easier to understand and achieve, but they account for fewer points toward overall certification.
Projects can earn extra credit for advanced metering of the entire building and when they send the information back to the USGBC. Not only can this help buildings and companies cut their costs, but it helps the USGBC support additional opportunities for energy management.
Credits are grouped under clearer, more concrete categories and can be searched more easily on the revamped website.