Published on Wednesday, 29 September 2010
Written by Donna Boss, Contributing Editor
The renovation of this 45-year-old dining hall reaffirms CSU's commitment to sustainable practices through the use of new, energy-efficient equipment and recycled materials.
With a $3.8 million renovation of its Braiden Dining Center, which features a combination of new and used energy-efficient equipment in the back of the house and recycled items such as glass and plastic in the front of the house, Colorado State University continues to show a strong and notable commitment to sustainable foodservice practices.
Of course, this approach is nothing new at Colorado State, where Ram's Horn at the Commons Academic Village earned FE&S' 2009 Facility Design Project of the Year award due, in part, to similar attributes.
Like Ram's Horn, the Braiden Dining Center also merges function and form to keep customer satisfaction and staff efficiency high. In early 2000, CSU completed two minor renovations to the Braiden Hall Dining Center. After reviewing the updated status of the 45-year-old facility, Deon Lategan, CSU's director of residential dining services, recommended to the university planning committee that it move to replace obsolete equipment and renovate the entire facility with a unique industrial theme that would expose the sustainable materials used in the construction. With approval secured, Lategan and dining services staff worked with Ricca Newmark Design and Architecture Plus to draft an original concept design.
In 2009, work began to update the building's interior and meet demand for more seating in this popular central-campus dining center. The 14,000-square-foot Braiden Dining Center opened to students in January 2010 with a 3,400-square-foot marketplace-style servery featuring six main stations and a new 1,000-square-foot pick-up-and-go station. Braiden's newly renovated 5,300-square-foot seating area is 2,700 square feet bigger, which increased capacity to 450 people, 100 more than before. The facility also includes a full-service, 4,200-square-foot kitchen at the back of the house that contains 1,600 square feet of new space primarily for cold and dry storage. Annual sales in 2010 will be nearly $2.4 million, with more than 275,000 transactions, according to CSU projections.
"We've taken a marketplace model and moved the food production to the front of the house in view of customers," Lategan says. "The closer we can put the point of production to the customers enhances food quality and the overall 'foodertainment' experience."
When customers enter Braiden, a storyboard describes the materials used in the design. The blue, green and natural-wood color palette draws them into a state-of-the-art sustainable environment. The carpet is made from recycled plastic bottles, and serving stations are covered with recycled aluminum and rapidly renewable agricultural products that are a bio-friendly alternative to hardwoods. The countertops and wall tiles contain recycled glass. Some of the walls are made from cork, a renewable resource that can be harvested every nine to 10 years without killing the harvested trees.
In addition, explains Brenda Amsberry, project designer for Ricca Newmark Design, all millwork is made from recycled sunflower seeds; all artwork is made from used bicycle parts, skateboard parts or used aluminum; and the lighting incorporates energy-saving LED fixtures.
"In addition, we've incorporated into the interior décor sculpture such as windmills and solar trees to draw attention to these sustainable efforts," Lategan says.
The servery is close to the back-of-the-house production, which makes it easier for staff to transport food once it is ready. This also allows for the batch-cooking process to continuously function, much to the delight of Cynthia Lategan, senior executive chef, and Karl Bendix, executive chef.
"Cooks are more likely to go to the servery to check to see what's needed because the kitchen is close versus a half-block away," Bendix says. "Meals to labor hour are enhanced because of the variety offered in the servery and the layout, which helps disperse crowds."
Another means to keep labor hours down is opening stations for peak periods and closing them during slow periods. "Some stations, like the Filling Station, are closed on Friday and Saturday nights," Cynthia Lategan explains. "And for breakfast, the Bistro, Grill and cereal areas are open, but not the Filling Station or deli."
The equipment package at the Filling Station includes a cook-and-hold oven, a two-drawer warmer, a three-rail-pan drop-in hot well unit, a four-rail-pan refrigerated drop-in cold pan, a warming cabinet, a two-door refrigerated reach-in cabinet and a conveyor oven. These items assist staff in making cooked-to-order, hot, rolled sandwiches, called Ram Wraps, in buffalo chicken, Greek chicken tzatziki and Cuban pork sofrito varieties. Other menu items available here include burritos, Italian pastas, Asian noodle and rice bowls, Middle Eastern street foods such as chicken shawarma, black bean falafel and gyros, and accompanying side dishes. Staff use the conveyor to cook pizza for late-night service. "The advantage of this type of station is that we can change the theme every day," says Cynthia Lategan.
At the Deli station, staff serve made-to-order sandwiches, toasted subs and wraps. Here they use worktables, rail-pan drop-in cold and hot wells and a four-head condiment dispenser for preparation. Rapid-cook ovens, located between the Filling Station and Deli Station, toast sandwiches in seconds.
At the Grill, staff use a charbroiler and flattop grill to make cooked-to-order omelets and fried eggs at breakfast. At lunch and dinner, staff use the equipment to make cooked-to-order grilled chicken, cheeseburgers and veggie burgers. Also at this station, a fryer sizzles the fries.
The equipment package at B's Bistro, a Euro kitchen concept, includes a double-unit convection oven, a two-door convection steamer, warming cabinets, rail-pan drop-in hot wells and hot holding decks. These items support the preparation of carved meats, "Steve's smokin' ribs," garlic- and ginger-glazed salmon and other comfort food entrees and side dishes. Two induction cookers assist the action stations and keep soups hot. Customers find vegetarian items here daily. Staff also prepare breakfast items at this station. During peak business periods, various combinations of preplated foods are displayed on the hot deck for fast pickup.
A salad and fruit bar with reach-in refrigerators, display cases and drop-in refrigerated cold pans sits in the center of the servery, displaying greens, vegetables, cheeses, condiments and seasonal fruits. The three-week menu cycle features composed and specialty salads. Cynthia Lategan and Bendix admit their fondness for this station because of its contemporary design and the visibility of fresh ingredients.
Dessert stations present a variety of baked goods, in addition to refrigerated and frozen treats.
The dining room contains POS registers, beverage dispensers and drop-in refrigerated cold pans for condiments.
At the nearby 880-square-foot RAMwich, the grab-and-go station that is separate from the all-you-care-to-eat dining program and features its own entrance, students pick up deli sandwiches, entree salads and accompanying chips, fruits and desserts after submitting orders via their smartphones or computers. Customers schedule pickup times that suit their schedules, and the dining system sends them each a reminder e-mail. Staff prep the fare for this station using a refrigerated prep counter and undercounter refrigerators. An eight-head beverage dispenser with undercounter ice storage is also part of this unit.
"This station has helped us manage the overcrowding at peak meal times," explains Ron Pantier, a former associate director in the CSU dining service division who now serves in a consulting role with the college. "The unit is open from 11 a.m. to 11 p.m. Sunday through Thursday and allows us to close the main dining center at 7 p.m. In addition to lowering labor costs by using fewer staff here than in the main dining area, food cost has also been reduced by limiting the amount of food a student can order through the pick-up-and-go station."
Equipping the Kitchen for Success
The kitchen uses both new equipment and items that were in place prior to the renovation project, specifically "more than 50 pieces of existing equipment, including kettles, tilt skillets, steamers, ovens, prep equipment, shelving, hand sinks, tables and an ice machine," according to Lona Homersham, project director for Ricca Newmark.
"We redesigned the kitchen for better production flow and use of equipment," Cynthia Lategan adds. "The equipment used to be parallel to the servery, resulting in longer walking distances to the servery. Now it runs perpendicular, providing direct access to the servery."
For food storage, new coolers and freezers were added to enhance production capabilities. On slip-resistant floors, staff transport food from storage into cold production where they work with a slicer, a high-volume food processor, a vertical chopper and a buffalo chopper. Soups and sauces cook in 40- and 60-gallon steam kettles, vegetables in steamers, and curries in two 40-gallon tilt skillets.
For bulk preparation of meats, pasta, roasted vegetables, potatoes and other food to support the front of the house, staff use convection ovens,
fryers, ranges and a slow cooker. Two combi ovens roast and smoke meats, cook casseroles and side dishes, including hash browns for breakfast, and reheat leftovers. In addition to the walk-in cooler, walk-in freezer and upright refrigerators, the kitchen also holds a blast chiller, which reduces the thermal shock load on coolers and freezers.
"The placement of the bag and box beverage systems eliminates the need to replace product in the servery, which is much cleaner and efficient," Pantier says.
Eight new exhaust hoods are electronically controlled with thermal optic sensors that detect smoke and vapor and gear down to match the load in each hood canopy. They will operate only when heat or smoke is detected. Hoods are connected with a variable-frequency drive on the main air-handling unit that supplies fresh air makeup.
"The overall building venting expenses decreased by 15 percent when normalized to baseline for the first five months of operation compared to the previous year with the old facility," Deon Lategan says. "This is despite the fact that the new hoods required about 3,000 cfm more of air makeup because we have to vent some 5,500 additional square feet of seating and kitchen space." The overall savings on HVAC are about 40 percent.
The facility is powered by green renewable energy (primarily wind, hydro or biomass power) purchased from a local utility company. "Even though the green power costs more per kilowatt, the energy-efficient design has lowered our energy consumption, offsetting the premium paid for green power," Deon Lategan explains.
Another key feature in the kitchen is the new dishroom, which contains a close-coupled pulper/extractor unit that creates a compostable by-product of kitchen and food waste. This reduces the waste stream by 70 percent and reduces water usage by about 150,000 gallons per month. "We are using a byproduct that typically is discarded but can be converted to a resource in the form of compost that can be used on the university grounds," Lategan says.
The new dishmachine, Lategan adds, reduced water consumption by 50 percent compared with the old unit.
Other sustainable elements include compostable serviceware made of biodegradable and compostable eco-friendly products as well as recycling containers for cardboard, glass, metal, paper and plastics. In addition used fryer oil is picked up by a company for conversion into biodiesel fuel; and dining facilities are trayless to reduce food waste, conserve water and reduce the use of dishwasher chemicals.
As new generations of students experience Braiden Dining Center, they'll continue to be introduced to sustainability in ways they've never imagined.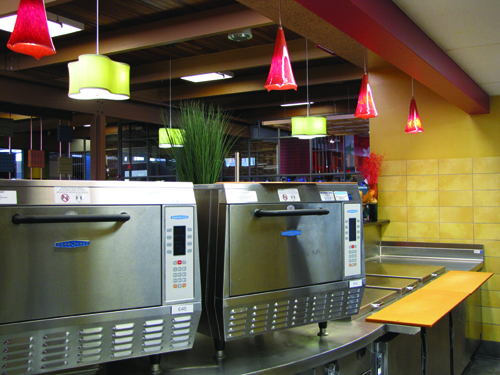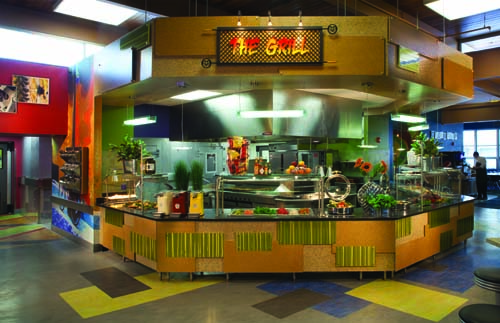 B's Bistro is a Euro-station concept with display cooking and global cuisines. Staff use the convection ovens near B's Bistro to heat entrees and cook bacon, biscuits and sausage.
Photo courtesy of Colorado State University; photo by Paul Brokering.
---
Design CapsuleBraiden Dining Center originally opened in the late 1950s. Dining services renovations started in May 2009 with partial service beginning in the fall of 2009; the center reopened for full service on January 14, 2010. The 14,000-square-foot center is located within the Braiden Residence Hall and contains a 3,400-square-foot marketplace-style servery with six main stations, 459 seats in 5,300 square feet of dining space, and a full-service 4,200-square-foot kitchen at the back of the house. Online orders are available for pickup at RAMwich, a 1,100-square-foot takeout area that includes seating, pickup and beverages. Annual sales in 2010 will be nearly $2.4 million, with 275,854 transactions. Nearly 800 meals are served over an hour-long lunch period Monday through Friday. Operating hours Sunday through Thursday are 7 a.m. to 7 p.m. with RAMwich staying open until 11 p.m. Friday and Saturday the facility is open from 7 a.m to 7 p.m. The staff consists of 16 full-time employees and 14 student and non-student employees. The cost of the center was $3.8 million. Equipment investment was $412,800.
Owner: Colorado State University
Key Officers: Jim Dolak, executive director, Palmer Center
Director of Residential Dining Services: Deon Lategan
Chefs: Cynthia Lategan, senior executive chef; Karl Bendix, executive chef
Interior Design: Ricca Newmark Design, Greenwood Village, Colo.; Brenda Amsberry, project designer
Architect: Architecture Plus, Tom Kalert, Ft. Collins, Colo.
Kitchen Consultants: Ricca Newmark Design, Greenwood Village, Colo.; Thomas Ricca, FFCSI, partner; Lona Homersham, project director
Equipment Dealer: W. West Equipment and Furnishings, Denver
Construction: Dohn Construction, Ft. Collins, Colo.