With an extensive menu, a leisurely environment and what might be the world's largest cappuccino and espresso machine, Café Intermezzo is betting that 21st-century America will take to the 19th-century European coffee house experience.

In 1971, Brian Olson took a trip to Europe that would come to define much of his life.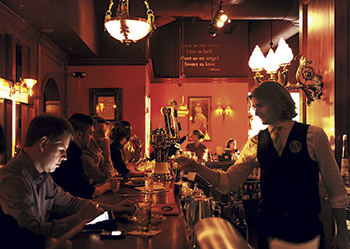 The restaurant's full bar accounts for approximately 20 percent of its sales. Café Intermezzo's founder, Brian Olson, purchased the type of high-end lighting fixtures shown here at auction over the course of several years.
It was there he discovered European-style coffee houses, first in Germany and then in Vienna, Austria, the birthplace of the coffee house. The pace, the people and the environment all resonated with him.
"I wasn't really a coffee fanatic at that stage in my life — in my early 20s — but I really enjoyed the ambiance, the feel of what was going on. I just thought this was such an interesting place because people would go in, relax, read a book. People would make notes and plan their lives. There's a lot going on there that I found to be intriguing. America at that time was moving into fast food, and this was the antithesis of that."
Over the next few years, the stars seemed to point Olson toward opening up his own coffee house in the states. Upon returning from Europe, he got a job in restaurant management and then marketing and selling cappuccino and espresso machines. All the while, he kept a binder of ideas for his coffee house concept.
After years of learning, thinking and planning, Olson finally opened Café Intermezzo in a north suburb of Atlanta in 1979. Eight years later, he opened a second location in the city's Buckhead section (later moved to the Midtown neighborhood). A third location, licensed to an outside investment company, opened in the Atlanta airport in 2009, and in recent months Café Intermezzo has become officially licensed to sell franchises in most states.
Selling an Experience
Café Intermezzo's cappuccino machine stands more than six feet tall and may be the largest in the world. It sits behind display cases in the pastry/barista area, which accounts for 40 percent of the restaurant's sales.Given what initially drew him to European coffee houses, it's no surprise that Olson's concept sells, first and foremost, an experience. Naturally, Café Intermezzo's decor helps establish much of this experience.
Walking into a Café Intermezzo, guests encounter walnut paneling and flooring, giving the restaurant a relaxed but slightly upscale feel. Also imparting that feel are the tables, made with iron bases and glass tops over tablecloths. Chandeliers and other high-end light fixtures — many bought by Olson at auction — hang from the ceiling. To keep the lighting at pleasant levels, Café Intermezzo uses a computerized system that automatically adjusts brightness based on time of day and how sunny or overcast it is outside. Waitstaff serve the customers, who can sit either inside or on the patio, which remains operational year-round thanks to outdoor heaters.
By far, the bar emerges as Café Intermezzo's dominant feature. Instead of being located along a wall, it is an island. Shaped like an oblong octagon, it measures 34 feet long by 28 feet deep. On one side of the bar sits the barista/pastry area, while the other side hosts alcohol service, including beer, wine and liquor.
The barista area faces the front door and features two refrigerated cases that hold about 75 of the 125 cakes, tortes, tarts and other pastries the chain offers. The real star, though, sits behind the counter: a showpiece cappuccino and espresso machine of Olson's own design. The unit, which the chain bills as the world's largest — a claim they've never been challenged on — measures 6 feet, 6 inches tall by 6 feet, 2 inches wide. Sitting on the countertop and filled with water, it reaches more than 10 feet tall and weighs approximately 400 lbs.
The emerging concept's approach to service also contributes to Café Intermezzo's atmosphere. The chain doesn't rely on quick table turns to be profitable. While service is timely, customers are not expected to be as efficient. "Someone can come in during the afternoon alone and spend it with a pot of tea," Olson says. "There's no urging in our concept, no pressure to spend a certain amount of money per hour or leave. We welcome people to stay as long as they want. Of course, a majority of people don't, which contributes to the business model's success."
Along those lines, the size of Café Intermezzo's menu allows the concept to accommodate nearly any mood or occasion.
While the menu boasts a nice variety of entrees, appetizers and salads, its real breadth is in its drinks — both alcoholic and non-alcoholic — and pastries. As mentioned, Café Intermezzo offers 125 different pastries — so many that the chain has pastry tour guides whose job is to explain the different offerings. Matching that is a beverage menu coming in at 64 pages, including dozens of different coffee drinks, wines, scotches, etc.
Having so many options, says Olson, "affords people the opportunity to go into a place that can really serve the different tastes and desires of the moment."
Kitchen
This goal of meeting the "desires of the moment" is reflected in Café Intermezzo's food and drink production, which staff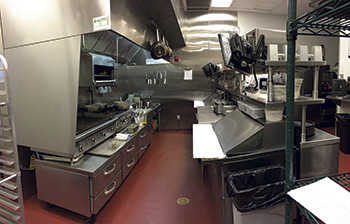 Café Intermezzo's food production line features a crepe station and two sandwich tables — one for cold ingredients and one for hot.carry out in 3 different sections of the restaurant: its full bar, which accounts for about 20 percent of sales; the pastry/barista section, which makes up 40 percent; and the back-of-the-house kitchen, which accounts for the last 40 percent.
The bar's equipment and supplies lineup is basic — an ice bin, glass washer, three-compartment sink, refrigeration for holding beer and wine, and so on.
The pastry/barista section has a few more bells and whistles. The giant cappuccino/espresso machine sits on display behind the bar. Facing the customer are the two large refrigerated pastry display cases, separated by a countertop for slicing and plating desserts. Café Intermezzo also uses a whipped cream machine in this section to make schlag, a German variant of the treat that is made with heavy whipping cream — but in Café Intermezzo's recipe, no sweetener.
The kitchen in the back of the house is more extensive.
Wood floors and wood paneling give Café Intermezzo an upscale but warm feel.The hot line sits against a wall that separates the cooking area from the prep area. It starts with a griddle measuring at least 48 inches. Kitchen staff use this piece to warm bread and cook proteins like chicken, fish and beef for various sandwiches, salads and entrees. Staff cook the different proteins on a dedicated section of the grill for food safety purposes and to avoid mixing flavors, says William Pitts, Café Intermezzo's chief operating officer.
Next to the griddle sits a range top with a minimum of six burners, where cooks make sauces for various dishes, cook toppings for warm crepes and produce pasta dishes like fettuccini alfredo, lobster ravioli and bowtie pasta with smoked salmon in a vodka crème sauce. They also use this station to cook breakfast items ranging from rich offerings like a duck omelette with goat cheese to more standard eggs, bacon and toast offerings. A cheesemelter attaches to the wall above the range, while undercounter refrigeration sits below the sauté station and the griddle.
The crepe station follows the range and consists of two crepe burners, both about 18 inches across. A refrigerated rail hangs on the wall above the burners and holds Café Intermezzo's crepe batters (chocolate, spinach, sun-dried tomato and white) as well as cold crepe toppings for offerings like the Nutella-strawberry crepe or the Nutella-banana crepe with walnuts. Warm crepe ingredients taken from the sauté station are used to make dishes like the duck and fig jam crepe (duck, sweet onions, fig jam and goat cheese) and the seafood crepe (shrimp, crabmeat, mushrooms, green onions and a crème sauce).
Turning from the crepe station, kitchen staff then encounter the salad station, where both entree and side salads are made. Café Intermezzo actually uses a sandwich table with a cutting board at this station. Prepped produce sits on top, in wells, as well as ingredients for cold appetizers like the hummus platter and the artisanal cheese platter with a fruit garnish.
Next to the salad station is a dump sink, where kitchen staff can quickly clean out pots and pans (usually from the sauté station).
The concept is focused on creating a warm, inviting environment where people feel welcome to linger.Following the sink is a four-sandwich panini press, followed by a second sandwich table, which holds panini ingredients along with hot appetizers like seafood dip (shrimp, scallops and crab with parmesan and cream cheeses, roasted red, cayenne and black peppers served with crackers and/or bread) and a spinach-cheese dip with roasted red cayenne and black peppers. Staff cook panini proteins on the grill, which sits just across the cookline's walkway.
Staff walk all finished dishes around the sandwich/salad line to the expediting station, where team members assemble trays before they are sent to patrons.
Café Intermezzo's prep area sits behind a wall opposite the hot line. It includes a 10-foot prep table, a stock pot burner for making large batches of soups and sauces, and a convection oven, which is used to cook a handful of items, including bacon and lasagna. Each location also has a walk-in cooler measuring 8 feet by 10 feet and about 10 linear feet of dry storage.
The only freezer the concept uses is on the loading dock, which holds some pastries delivered by outside bakeries.
The size of the menu, of course, plays a big role in how Café Intermezzo operates. The chain has 38 separate vendors and receives multiple deliveries each day. Among these are about 10 alcohol distributors and 5 bakeries that supply the chain many of its pastries. Getting items from so many different bakers adds variety to the concept's menu, Olson says. "If there's one baker in charge, things will begin to look and taste alike because they get into system. Now we're getting them from different artists, and we have this wide variety of flavor profiles and appearances," he adds.
It should be noted that not all the chain's pastries are bought from outside vendors. Through the chain's franchise arm, Olson owns and operates a bakery that supplies Café Intermezzo with cheesecakes that are sent to each store. Similarly, the franchise company owns Café Licensed Products, which sells Café Intermezzo-branded cups and other items to the different units.
Finally Franchising
With such a large menu and so many moving parts, Olson was opposed to franchising for years. The Café Intermezzo
Café Intermezzo has been able to maintain its look and feel at its licensed location at the Atlanta airport.concept was simply too large and too complex to properly teach to an outsider, he believed.
The success of the licensed airport location, though, shows that an outside group could successfully oversee the concept. This is possible largely thanks to advances in point of sale, ticketing and other information technology systems, Olson says. "We now have the ability to deliver to the franchisee a model with all the recipes and all the formulations for the hundreds of beverages we have. And of course our training will be deeply tied in to that."
Working with a consultant, Olson has formalized his processes and developed training materials for franchising. With a franchise system now in place, finding the right partners in the right places represents the next challenge.
In terms of partners, Olson says, Café Intermezzo will need to find people committed to the concept. The chain's biggest selling point to diners is its experience and ambiance, so franchisees must commit to maintaining them. And the first few of these partners must be in the right places. Café Intermezzo is initially targeting three markets for its first franchised units: Charlotte N.C.; Charleston, S.C.; and Nashville, Tenn.
"They're smaller markets, and I want to prove the concept in a place that size," Olson says. "Yet each of them has a
specific group of characteristics that we believe will contribute to the success of Café Intermezzo there, from demographics to tourism to a growing population."
Once Olson finds partners, they'll need to work together to identify prime locations in these markets. An ideal spot, he says, would have high pedestrian traffic, be visible from the street and be close to a hotel and/or college or university.
While these are fairly specific requirements, when Olson finds the right partners, Café Intermezzo will get its first exposure outside the Atlanta area and away from its founder's day-to-day oversight. And new cities will get a small sample of some of the best of 19th-century Europe.
Key Players
President and CEO: Brian Olson
COO: William Pitts
Training and Support: Nate Milam
Kitchen Training: Jennifer McClure
Comptroller/Finance: Sooi-Kit Cheng, comptroller/finance; kitchen training
Interior Designer: Brian Olson (internal)
Equipment Dealer: Various, and always bid, but principally Trendco-Vick Wholesale
Facts of note
Company headquarters: Norcross, Georgia
Year founded: 1979
Signature menu items: Oreo Cheesecake, Cappuccino L'Amour, Hot Chocolate Deluxe, Toffee French Toast, Almond Avocado Salad, Grilled Chicken Sandwich, Italian Gnocchi and some 125 pastries
Number of units: Two corporate and one licensed
Average unit size: 4,100 to 4,600 square feet plus patio of 700 to 1,100 square feet
Average seats per unit: 170 to 190
Total system sales: $14.8 million per year
Unit growth projections: 20 total stores by December 2019
Check average: $20 per person
Equipment package cost: $310,000
Franchise fee: $40,000